Super-Deformed Night Surfers (Sketch)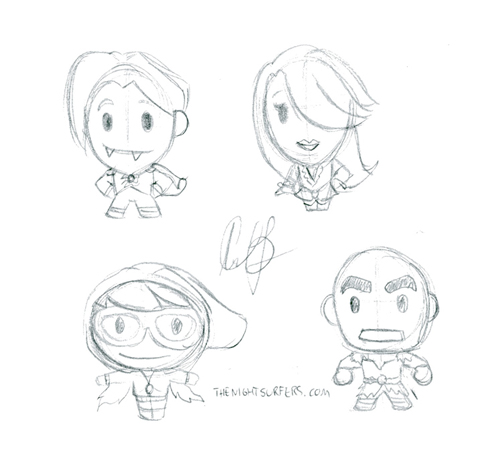 Here's a quick sketch I did a week or so ago for some "Extras" art I'm going to eventually finish, haha.
New "Cast" Page!
So for anybody who needs to catch up on the who's who of The Night Surfers, or if you just need to remember their names, I added a "Cast" Page at the top navigation with little blurbs about the main peeps.
Expect to see it updated whenever big developments and new main characters are introduced.
Check it out here!
New Site, New Organization, New Updates, New… York?
Hey there!
So, as you may have noticed, the site has undergone a major redesign. Content-wise, it's officially caught up to where it was before the overhaul, no thanks to my accidental deletion yesterday…
If you haven't been here in a while, you'll notice that the comic is now and black and white. That's so I can actually finish this darn thing with my lack of free time, and maintain the new "One Page Every Tuesday" update method.
FYI, the drop-down menus still aren't working, so please bear with me as I try to figure that out.  In the mean time, you can browse archived comics by clicking on the cover art in the sidebar.